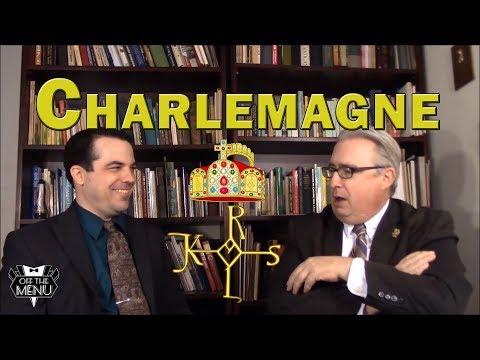 During this interview, a journalist is questioning church historian Charles A. Coulombe about Charlemagne's sanctity. He's asking more precisely « why is Charlemagne not canonized yet ? ».
Mr Coulombe is reminding firstly that canonization is not determined solely by the Church : to canonize a catholic, miracles should happen and be proved by a competent authority. Then, he is explaining that Charlemagne was revered as a saint in many parts of Europe. In ancient times, fifty or sixty dioceses across Europe celebrated his liturgical feast every year on the 28th January. Still today, only three or four dioceses celebrate this. This is especially the case of the diocese of Aachen.
Charlemagne was even formally canonized but this canonization created many problems for Church. Indeed, this canonization was a troublesome fact for the catholic Church.
First, this canonization was enacted by an antipope, at the request of Emperor Frederic Barbarossa, who was in conflict with the legitimate pope. Then, since Reformation, a veritable black legend has been forged and Charlemagne's persona has been mistreated. He was notably accused of being a polygamist, with seven wives.
So, as a compromise, Papacy approves that the Carolingian emperor be considered as a blessed man but not as a saint.